Beyond the Classroom
Our Co-Curricular programme blends inside the classroom with outside the classroom and is an extremely important part of the life and ethos of Wellingborough School. Pupils can choose from a wide variety of co-curricular activities, which aim to accommodate all abilities and most interests, at lunchtimes, after school and at weekends – so you can be sure to find something that suits you!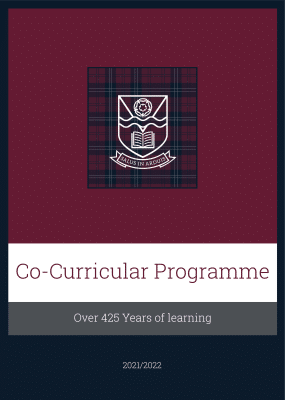 View our co-curricular brochure
Lunchtime Enrichment
Year 7-10 participate in these activities and many are led by pupils from Year 10 and above. Options are varied from knitting to forensic science.  In addition, public speaking and debating competitions, dance and first aid are always popular. In Year 10 and Lower Sixth, Young Enterprise is offered which empowers pupils to harness their personal and business skills and make the connection between school and the world of work.
Combined Cadet Force
A School tradition since 1900, the CCF aims to develop cadets' personal qualities and leadership. Pupils start their compulsory CCF journey in Year 9 and apply for one of four sections: Royal Navy, Royal Marines, Army or Royal Air Force. At the end of Year 10, pupils can choose to begin their CCF leadership training or choose to try some other leadership options.
Duke of Edinburgh
The Duke of Edinburgh Award is an optional activity which overlaps with many CCF activities.  We offer pupils the opportunity to enter at one of three levels: Bronze, Silver or Gold, or to complete all three. They achieve a DofE Award by following a personalised programme of activities in four sections, which includes the Expedition element of the Award. The majority of participants enter at Bronze level in Year 9, and a smaller number continue to Silver and Gold.
Music
The Music Department offers individual music lessons throughout the week for a wide variety of instruments, from voice to percussion.  As well as House Music Competitions, pupils can perform in bands, choirs and quartets and musical events are a highlight of the school calendar.

Drama
The School's Drama Department produces one major production each year, at the local Castle Theatre, as well as a number of smaller performances. These provide pupils with the opportunity to take part in the full theatrical repertoire and in recent years we have performed Les Misérables, Oliver, A View From The Bridge and Sweeney Todd.
Community Cohesion
Students may volunteer in the local community and activities vary from year to year, they include gardening, working with local care homes and supporting the local fox sanctuary.
Trips & Visits
Over 150 trips and visits take place throughout the School year. In recent years, pupils have visited Sri Lanka, Rome, Iceland, USA, Canada, Austria as well as multiple educational trips to the science fairs, theatre productions, local businesses and conferences.