Academic Excellence
Academic Excellence
The curriculum is based on students studying three principal subjects to A-level. Students selecting Mathematics and Further Mathematics are encouraged to take two additional subjects and all students are encouraged to broaden their studies with an Extended Project (EPQ) or other academic enrichment activities.
A-level qualifications are a substantial academic commitment and students should expect to spend as much time working independently outside of lessons as they do in the classroom to achieve their potential. The annual Sixth Form Opening Evening is an opportunity to speak with Heads of Department and subject teachers about the curriculum offered in the Sixth Form and your personal suitability for those courses. Tailored advice is available from our academic leadership team.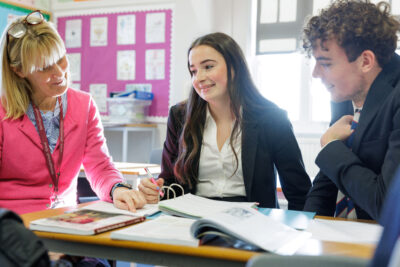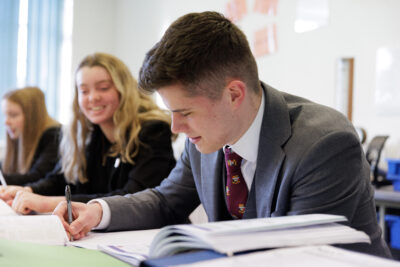 EXAM RESULTS
Summer 2022
Wellingborough School has once again produced excellent results at A level and the pass rate of 100%, along with 25% of grades at A*, represent incredible outcomes for our students. They leave us to take up opportunities stretching from Newcastle to Exeter, Norwich to Aberystwyth, with courses that range from Accounting to Yacht Design via Dance, Electrical Engineering, Fashion, Medicine, Politics and Real Estate.
| | 2022 | 2019 | 2018 | 2017 |
| --- | --- | --- | --- | --- |
| A* | 25% | 13% | 7% | 9% |
| A*-A | 48% | 39% | 39% | 34% |
| A*-B | 74% | 71% | 69% | 66% |
| Pass | 100% | 98% | 99% | 99% |
In 2020 and 2021, A level outcomes were determined via Centre-Assessed and Teacher-Assessed Grades respectively. To see those results, please click here
Learning Development
Additional support is offered to pupils who experience difficulties in any aspect of their learning and to help build their confidence and self-esteem, and through appropriate support, enable them to realise their full potential. Our team work closely with pupils, teacher, parents and external specialists to assess and support pupils both through the learning development option above and one-to-one and small group sessions either within the timetable or before or after school.