BBC Sports Editor Dan Roan (OW 90-95, Garne's) revisits the School
News
22.11.2019
Whole School
OW Dan Roan (90-95, Ga) visited the School yesterday to give an insightful look into the world of being Sports Editor for the BBC.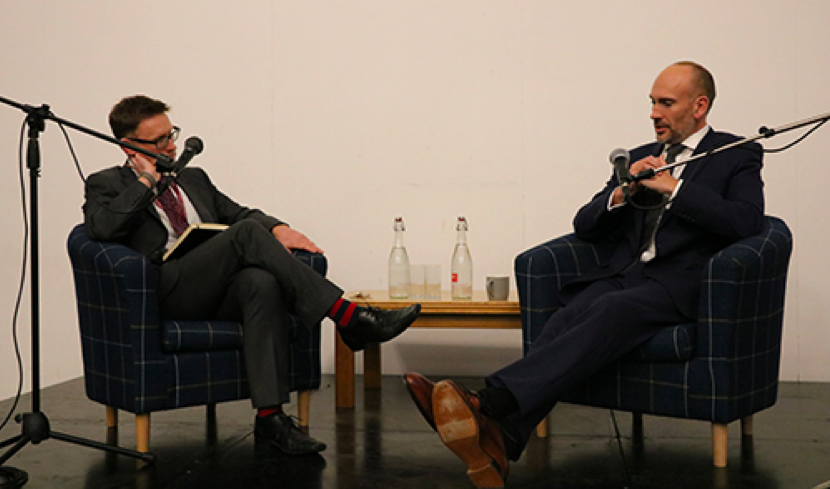 In a one to one interview with Mr Holman, in front of a packed audience of pupils and staff, Dan explored the well thought out topics put to him around sport and his career.
Students were given the floor throughout to ask questions and share their views on many topical issues, not only in sport but the world in general. Time flew as a vast range of topics were discussed, from gender equality, LGBT rights, human rights, corruption and ethics through to the concluding thoughts around how we measure success in the highly competitive world of sport. Is it medals or trophies? Playing fairly? Having good health or inspiring an uptake in that sport?
Dan provided a fascinating introduction both into the world of a Sports Editor but also journalism in general and moral dilemmas that are common denominators throughout all industries.
Dan then went on to host a Careers talk with our Upper Sixth along with students from Wrenn School and Wollaston School. Ollie (13GA) and Lucy (13MA) led the interview beginning the Q&A session with a walk down memory lane …
We hope that Dan enjoyed his visit as much as we enjoyed getting to know him.
A Northampton local, Dan attended Wellingborough School from 1990-1995, progressing to higher education to study Social and Political Sciences at the University of Cambridge. He joined the BBC News Trainee Scheme after University, going on to report for Look North, BBC Breakfast and News 24 on a range of business, political and general news stories. In 2003 Dan joined Sky Sports News as a reporter and was promoted to Chief News Reporter in 2007. Dan returned to the BBC as a Sports News correspondent in 2010, was promoted to Chief Sports Correspondent 3 years later and then appointed Sports Editor (current role) in 2014. Dan's career has covered many high profile worldwide events including London Olympics 2012, Rio Olympics 2016, England Rugby World Cup 2015, New Zealand Rugby World Cup 2011, Germany Football World Cup 2006, South Africa Football World Cup 2010, Brazil Football World Cup 2014, Glasgow Commonwealth Games 2014, among many others.
Back to all news