Wellingborough School pupils celebrate GCSE success
News
25.08.2023
Whole School
This morning our pupils came in to collect their results, knowing that they were not being afforded any mitigation despite the disruption to their studies during Covid. They could hardly have hoped for better outcomes, with the 51% of outcomes at Grade 7 or above matching the best pre-pandemic Wellingborough results, with over 96% of grades at Grade 4 or above outstripping those pre-Covid years.
As well as delight at so many top grades, nine pupils made at least 2 grades of progress against their Year 9 predictions.
Headmaster Andrew Holman congratulated the pupils on how well they had performed, saying,
"It was wonderful to welcome so many of last year's Year 11 into the Sixth Form Centre this morning, a space that will be home to so many of them for the next two years. The smiling faces evidenced their deserved pride in what has been achieved in extraordinary circumstances. These young people had a torrid time during Covid and yet have produced outstanding results with no leniency provided by the system.
Our students will be joined by a significant number of newcomers as they embark on their A level studies. Their tenacity and dedication over the past two years will stand them in good stead for what lies ahead, but I know they will launch themselves into Year 12 with confidence, not complacency."
24th August 2023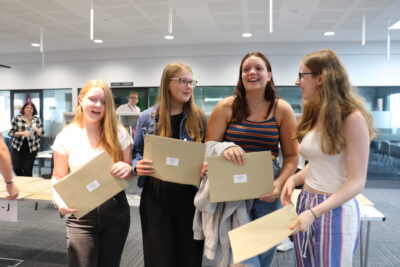 Back to all news