Alumni Farewells
In this section we report on those OWs and former members of staff who have passed away in recent times. We offer our sincere condolences to their families and friends.
Died on 21st August, 2020, aged 76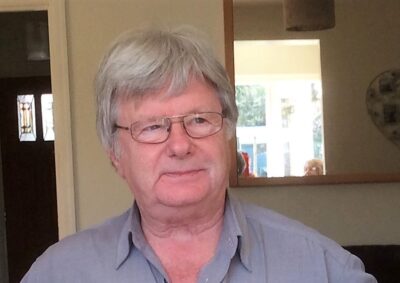 Good friend and contemporary, Clive Adams, received the following from Malcolm's daughter, Kirsty.
Malcolm left school and trained initially as a mechanical engineer, but quite soon, his early interest in cars and motorcycles developed into a passion for aviation. He went on to train as an aircraft engineer, working at Sywell, Cranfield and Boscombe Down during the 1960s and early 70s. His passion for aviation continued throughout his career, although he moved into sales and consultative roles within the industry in later years. He never did relish the thought of retirement and was working until only a few weeks before he died, always enjoying the challenge of a new project.
Malcolm's career and hobbies were closely aligned. After initially being involved in flying gliders, he went on to gain his private pilot's license and flew regularly from Brimpton Airfield, near his home in South Oxfordshire. However, not entirely satisfied with this, he decided that he would like to learn aerobatics as he entered his early 70s. He was proud to have completed this rating just over a year ago and had been looking forward to flying solo.  He was also rarely without a classic motorcycle to care for and ride, in which he also took great pleasure.
Malcolm will be greatly missed by family and friends and in particular his partner Jill, daughter Kirsty, and grandsons Jack and Tom.
Clive Adams (52-59, Pa) sent through his own thoughts about his lifelong friend:
"I heard recently that my great friend and ex Wellingborough School pupil, Malcolm Ward had died.  Malcolm, myself, together with Peter Wildman (52-50, St) and Peter Dunkley (who died in 2018) started at The School in 1952, so we have known each other and remained good friends for all the intervening 68 years, meeting at least twice a year.
When Malcolm left school he worked for his father, Eric (ex-School pupil) in the motor trade for a few years then went to work in the aircraft industry and was working right up to his death.  He was diagnosed with lung cancer early last year and was told as recently as 3 months ago, that it was an asbestos related cancer, which in the end was fatal.  He was just 76 years old."
Stanley (Stan) Wilford (39-43, Pa)
Died on 14th June 2020, aged 92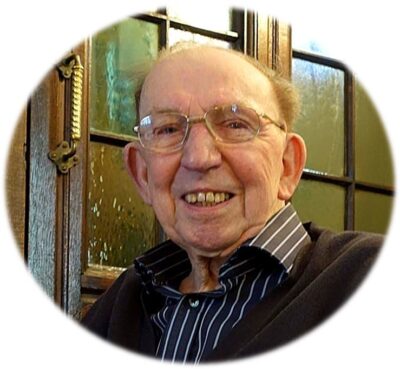 Stan gained a Foundation Scholarship when term fees for day boys were £10!
His father, Herbert, established the well-known family business, Wilford's Auctioneers, in Wellingborough and Stan's first experience of the auctioneer's gavel was in 1939 aged 12, with his father, at Grendon Village Hall selling eggs and other produce donated to raise money to purchase Spitfire fighter planes.
He left school in 1943 to become a pupil at Peacock's Auctioneers and Estate Agents in Bedford but following the death of his father in 1944, he took on management of the family business at the tender age of 16.  Though called for National Service towards the end of World War 2, he failed the medical so continued to run the business until a stroke in 1977 forced his retirement from an active role.
His son Tim, (66-73, St) took up management of the business until his untimely death in 1999 when the business was sold.  It still operates under the Wilford's Name but the family has no involvement.
Stan lived in Wellingborough all his life and was a highly respected long serving member of Freemasonry and Rotary, and many other Associations.   He was a gifted pianist, avid crossword solver, happy fisherman and a wise and constant support to his family, friends and associates.
He leaves behind his wife Jessie, two daughters, five grandchildren and three great grandchildren.
Died: November 2019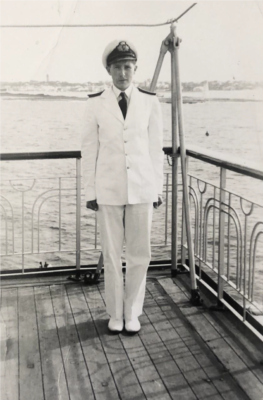 John Woods passed away in November 2019. At School he was a member of the Soccer 2nd XI and the swimming team.
After school he went to London Nautical College and then joined the Merchant Navy, working his way up to the rank of Captain. At the age of 37 he came ashore to be with his wife, June, and his new-born daughter, Sarah, and took a position as berthing master at Immingham Dock. He eventually landed the position of Superintendent Dock Master for ABP, highest position at the port.
John retired in 1996 to help look after his grandchildren and play golf.
Graham Garrett (Headmaster 1973-1993)
Died: 15th September 2019, Aged 85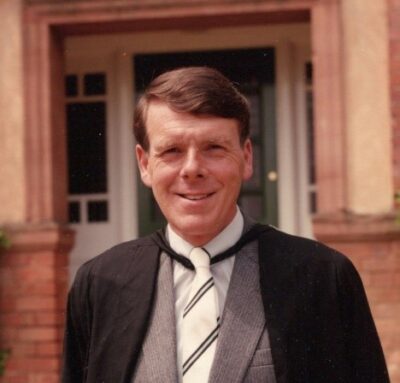 GG, known affectionately as "The Plank", was born and raised in Streatham, South-East London. The middle of three brothers, he was educated at Alleyn's School in London, where he ended up as school captain, before gaining a Mathematics scholarship to Gonville and Caius College, Cambridge.
Upon graduating he had three years in the Royal Navy (1952-55) as an instructor officer, and then a short spell in industry. He joined the staff of Radley College in 1961, before being appointed to Shrewsbury School in 1964 as head of Mathematics and, three years later, as housemaster of School House.
In 1973, aged 39, he moved to Wellingborough with his wife Jill and their three children – Caroline, John and Alison – to take up his new appointment.
The Garrett era saw a succession of new buildings – the Modern Languages Block (1974), the Spencer Art Building (1974), the Overstone Building (1979), the Sports Hall (1983), Nevill House (1986) and the Gent Centre (1990). The playing fields were enlarged in 1982.
Inside and outside the classroom, standards were raised. The School benefitted from the abolition of the county's grammar schools in 1975 and the introduction of Assisted Places in 1981. The A Level pass rate rose from 65% to 97.3%. A major change came in 1979: Overstone Girls' School near Northampton closed suddenly, and the decision was made to become fully co-educational. The influx of girls, and the growth of the county's population more than offset the decline in boarding numbers.
GG was very much a hands-on headmaster, involving himself in all aspects of school life. He led a sponsored walk to raise money for a new organ in the Chapel; he appeared in staff drama productions with great aplomb; he could be seen inspecting the CCF in his trilby hat, and playing tennis with the indefatigable Jack Blake.  He possessed the remarkable gift of giving time to everyone, from Shell former to governor, giving each person his whole attention – great eye contact, never looking over your shoulder in search of someone more important.
GG was very fortunate in being Headmaster at Wellingborough at a time when independent schools were booming; and Wellingborough was indeed fortunate in having GG at the helm. Working closely with the Governing Body and a supportive staff, he had the great support of his wife Jill at his side. Together they set a self-demanding example of practical Christian service.  For two decades GG oversaw great progress at the School. With his characteristically warm charm and his natural smile, he welded together an institution at ease with itself. Discipline was imposed from on high with a sense of compassion: suspending a pupil caught smoking or a group of boarders caught in a pub raid on a Saturday night would be conveyed with a sense of mild regret.
In July 1993 Graham and Jill retired to Cambridge, and his distinctive spidery handwriting on each pupil's end of term reports became a thing of the past. Trademark catchphrases such as "You've got to get it right" and "It's just not on" were consigned to the history books, ditto his reference to "long-haired skinheads".
A busy and active retirement beckoned – working with the National Youth Orchestra and, with Jill, immersing themselves in the University of the Third Age, birdwatching and walking, and GG himself remaining an accomplished pianist. In 2008-2009 he served as President of the Old Wellingburian Club. In 2003 the School renamed the Teaching Block as the Garrett Building in his honour. Alas, the last seven years were blighted by the onset of Alzheimer's, but to the very end he was blessed with the love and support of Jill, their children and grandchildren, and many close friends.
Historians will hail GG as one of Wellingborough's greatest headmasters. And for those who knew him, he will be remembered for his kindness and his gentleness. A great man.
James Sutherland Axe (53-63, W)
Died: 24th August 2019, Aged 74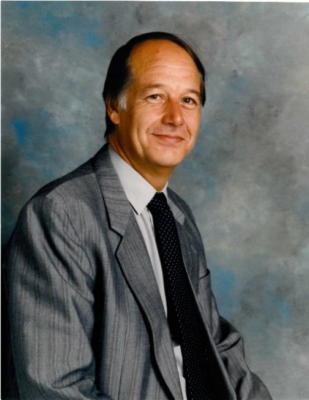 The first mention found of James in the Wellingburian Magazine is in the Junior School U12s Athletics Finals, winning the Long Jump with a jump of 12 feet and coming 2nd in the 220 yards final with a time of 33 seconds. When he moved up in to the senior school he continued his athletics and was made Vice Captain of the School Athletics Team. James' main love was cricket and he represented the Senior School for the entire 5 years he was there at U15, U16 and then 1st XI level for 3 years. He was elected Vice Captain in his final year. He represented his House in football, rugby, athletics and chess and he captained the House Cricket team. He was also in charge of the House singing competion. He sang in the school choir for 8 years and in his final years was Chairman or member of many school societies such as The Cat Whiskers, Drama and Photography. He was also President of the Records Appreciation Society. Many friendships were forged in the Senior School, particularly with John Marriot, who he usually opened the batting with, Clive and Keith Potter, David Brown, Dudley Wood, Roger Shelton and Clive Westley to name a few. On leaving School James was one of the founder members of the Old Wellingburian cricket and football clubs.
After leaving school James continued his love of music and turned his hobby of DJ-ing into a business, opening the first disco in Northamptonshire, "The Den" at his home in Loddington. He continued DJ-ing at many venues in Northamptonshire including Rushden Ski Club and the Desborough Rugby Club.
James joined the Institute of Chartered Surveyors' college in Bristol, however after a year decided to leave to take up teaching. He attended Teacher Training College at Kesteven College for four years, obtaining a B-Ed.
James taught History at Jack Hunt School in Peterborough from 1975 until 1995. During this time he met and married Angela and they had one daughter, Victoria. After early retirement from teaching he, went back into education in 2001 as a Boarding House Parent for five years at Peterborough High School.
Sadly James was diagnosed with COPD in 2006. He had major lung surgery at Leicester Hospital in 2014 which allowed him to enjoy a further five years of life. During this time, although his physical abilities were severely restricted, he was able to enjoy playing bridge, watching sport and spending time with his two grandchildren.
David Nigel Warwick (70-76, St)
Died: 17th August 2019, Aged 60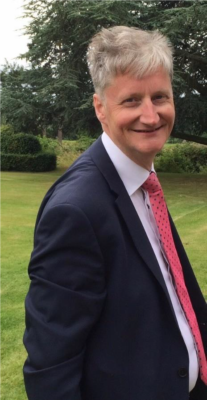 David Nigel Warwick, to us all David, a dependable chap and family man. He was born in Northampton on 30th April 1959.
David went to The Avenue Infant school and then followed in his Father's footsteps to Wellingborough Junior and Senior School. David's daughter Hannah and son Sam followed him to be educated at Wellingborough School becoming 3 generations of the same family to attend. On leaving Wellingborough School David carried out his apprenticeship at Clifton's Menswear in Bedford. It was there he learned his trade and was particularly keen and talented on window display and merchandising.
On his return to Wellingborough he joined the family business, which has been trading since 1868, he was the fifth generation of Warwicks to serve the town. He worked alongside his Grandfather Cyril, Father Alan and was later joined by Brother Neil. David was the inspiration behind the creative window displays which were known as the best in the town for many years. He took a great deal of pride in their appearance and won a good number of competitions underlining his skills in this field. One of David's particular attributes was the ability to visually 'read' your measurements before even reaching for a tape measure.
For 50 years Warwicks were the school outfitters, David along with his colleague Peter managed the school department, David giving his usual efficiency and attention to detail, to each and every customer. He also enjoyed attending trade shows all over the country and organising the buying for his fashion department, sourcing new and interesting pieces to meet customers' needs and requirements. In recent years David and Neil expanded the business, opening branches in Kettering and Northampton. In 2018 the firm celebrated 150 years of trading. David worked there for 40 years and his illness did not stop him from his daily routines until May of this year.
David was a member of IMC. An Independent menswear buying group and was highly regarded and respected within his Industry.
David was a member of Wellingborough Round Table, followed by 41 club, he was Chairman of 41 club in 2004/5 and president of Round Table in 2006/7. Although he didn't really possess the sporting gene, in later years he belonged to Wellingborough Bowls Club, playing for one of the 41 club teams.
Both David and his late brother in law Andrew Bigley were active members of Wellingborough School Friends committee. After the untimely loss of Andrew to bowel cancer in 2011, David worked tirelessly alongside family members to organise charity Balls at Sywell to raise funds for cancer charities.
David very much valued spending time with his family in Norfolk, he would always ensure Susie the dog would be welcomed in the local pubs. He was a self-taught DIY expert and a perfectionist when decorating at home.
He was never boastful of his talents, he was content with good friendships. He was a gentle undemanding character, his priorities were his family and his business, and he was conscientious and efficient in his approach to everything.
David was married to Sara for 30 years, they have two children Hannah and Sam, Hannah married Iain in 2011; they have two children Freddie and Mia.
Christopher Andrew John Higgs (78-88, Pa)
Died: 22nd July 2019, Aged 49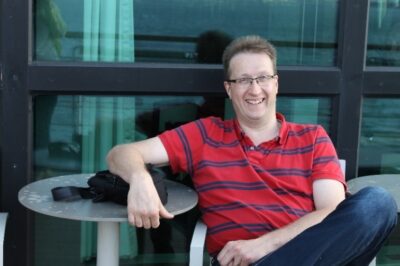 Chris was born in Wellingborough on 22nd April 1970 and entered the Junior School in 1978.
On leaving School he went on to Birmingham University where he obtained a Master of Mechanical Engineering Degree. Whilst there he met his future wife Ellen, and on graduating, they went off on a round the world trip before settling down to married life.
Chris joined the family Engineering business before setting up, additionally, his own Laser Cutting and Fabrication Company. Outside of work Chris was fully involved in Round Table activities in addition to cycling, gardening, travelling and following the Northampton Saints Rugby. He was a member of Overstone Parish Council and also actively involved in the preservation of the village.
He was much loved, known for his quick wit and sense of fun, and often used this with practical jokes on friends and family. He will be sorely missed.
His untimely death leaves his wife Ellen, daughter Jenna, son Jonathan, his father John (49-58, Pa) and his sister Julia Dale (nee Higgs 82-91, W).
Roy Palfreyman (32-36, F)
Died: 21st July 2019, Aged 99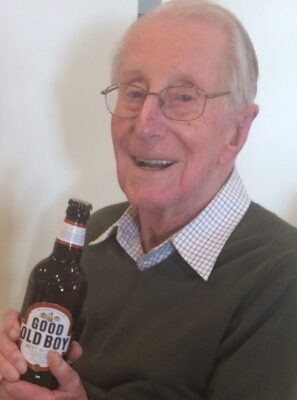 Roy Palfreyman (32-36, F) died on the 21st July, aged 99, believed to be the oldest OW. Born in 1920 in Crewe, he followed his elder John to Wellingborough, and would later recall the Victorian values, cold baths, meagre food portions and the liberal use of the cane, which would toughen up that generation for the war years ahead.
After leaving the School he joined Lawton's of Crewe, a furnisher retailer. In WW2 he saw action in North Africa in the 4th Armoured Brigade, part of the 7th Armoured Division – the Desert Rats.  In 1944 he landed on Gold Beach D-day plus 2, and was sent through the notorious Falaise Gap before the final surrender of Germany. In 2017 he was awarded the Legion D 'Honour from the French attaché at an award ceremony in Stoke. He had mixed experiences during the war, the brushes with death and the losing of friends made him cherish life and want to live life every day to the full.
After being demobbed he followed his father and grandfather into the family pawnbroking and furniture retailing business located throughout the Staffordshire Potteries.  He married his wife Mary in 1957 and they had one son, Adrian. He was a keen golfer and freemason, and church warden in the village of Alsager. Widowed in 2003, he lived a full life to the end.
Michael Peter Hainsworth (62-66, W)
Died: 22nd June 2019, Aged 71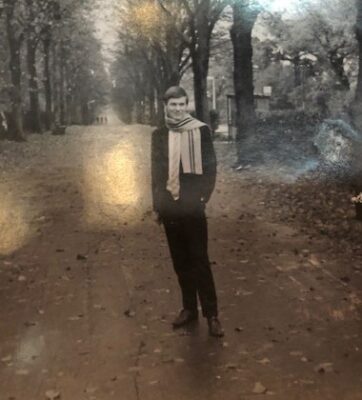 More interested in sporting than academic achievement, Mike pursued his love of sport by competing in both Football and Cricket first XI's, as well as the School swimming team, having developed his technique on school holidays in Singapore. He continued his sporting relationship with the School by playing for the OWs at both sports.
His favourite subject was geography, in which he had no interest at all, but it enabled him to learn all about either cricket, or First World War fighter pilots, thanks to the inimitable Murray Witham's teaching prowess. He always claimed the most interesting experiences from his schooling days were watching George Best single handedly demolishing the Cobblers, and the George Brown debacle.
The Daily Express on its own page 3 announced one day that a group of boater wearing public school boys would be up before the head that very morning, for having heckled and abused George Brown, the Labour M.P. and Deputy to Harold Wilson, who had the day before been on a husting by the market square, in the run up to the mid 60's election. All the boys involved, including Mike, argued to the head that all they were doing was attempting to challenge and correct some spurious and ill-informed comments by the Cabinet Minister, who was advocating the Labour Party would abolish all Public Schools for being elitist.  Murray Witham (yet again) congratulated all the boys on their common sense, and his pride for what had been done and said! No punishment.  It later transpired that George Brown was at that time a Governor of Repton School!
Mike after school initiated his own business selling villas during the 70s/80s in and around Javea, Spain, then went on to build up his own will-writing company, based at his home in Northampton.  Being in Northampton also allowed him to indulge his lifelong support for the Cobblers, whom he regularly followed no matter which division they found themselves in!
He leaves behind his wife, Sue, and his daughter Alex, and 2 grandchildren.
Thanks to Noel Tite (60-67, Pa) for providing this obit.
Mickey Prall (Staff 64-02)
Died: 18th May 2019, Aged 77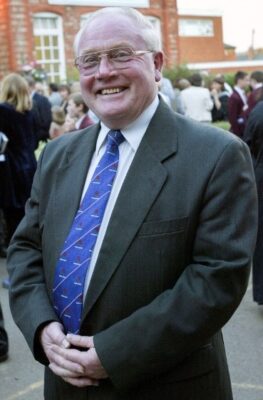 "Mr S.A. Prall joined the staff as Assistant Master this term. Miss S.E. Blachin took Miss Bawtree's place as  Secretary. We wish them both well, and hope they will enjoy working here… The Junior School is full for the year 1964/5 with 53 boarders and 93 day boys".
Thus wrote Roland Bedford in the Michaelmas 1964 edition of The Wellingburian, and thus began a teaching career for Mickey Prall at Wellingborough which would last some 38 years.
Mickey was born in India, where his father was posted, and educated at Cranbrook School in Kent. He studied for an IAPS Diploma in Education, and then joined the staff of Lichfield Cathedral School before arriving at the Junior School in 1964, aged about 22. For the next 38 years he ran the History Department in the JS, and countless generations would later thank him for drumming into their skulls the names of the Kings and Queens of England. Favourite classroom howler: "King Harold died when he found an arrow in his
eye".
In September 1965 Mickey became President of Lions (one of the JS Clubs) upon the sudden death of his colleague, Lambert Musgrave, a position he held for the next 37 years. From time immemorial he was responsible for organising the games programme three times a week, and the annual Sports Day. His first love was rugby, introducing the game into the JS in 1979 and running the 1st XV for many years. He refereed outside school in the holidays and, in retirement served for many years as a referees' assessor, travelling extensively around the country. He was also involved in JS cricket, running the 1st XI for a time, and in 1981 he succeeded Major Allen as Director of Games.
In his early years at the School he lived at Evington House in Castle Street, and steadily took on responsibility for the JS boarders, at one time over 80 in number. He also helped out in Platt's during the reign of Peter Croft (1960-72). He would serve under seven Heads – Roland Bedford (until his untimely death in 1969), the interregnum of Ian Ferguson (1969-70), Richard Millard (1970-73), Peter Howorth (1973-77), Richard Dyson (1977-89), Hugh Clifton (1989-95) and Graeme Lowe. In 1995-96 he served as Joint Acting Headmaster alongside his colleague Robin Hickling, taking on responsibility for liaison with parents.
In his 38 years he saw so much change in the JS – caps and shorts fading away, corporal punishment becoming a thing of the past, the arrival of girls in 1979, the steady decline in boarding numbers (boarding ended in 1994) and the vast increase in pupil numbers.
By the time he retired in July 2002 it was estimated he had eaten something like 3,300 school meals, courtesy of the Underhills and the Macdonalds. Notwithstanding this Olympian feat he managed to enjoy a very fulfilled retirement, splitting his time between his family home in Kent and his flat in Castle Street, and devoting his energies to the Embankment Golf Club as well as his beloved rugby. Colleagues and OWs often enjoyed the opportunity to see him in town, and to exchange news and reminiscences. To the end he kept in close contact with his old colleague and neighbour, Ian Ferguson (Second Master of the JS, 1955-85), and together they toured many of the finest restaurants and hostelries in Northamptonshire.
Mickey passed away suddenly this May, aged 77. He will be remembered fondly by his colleagues as a very popular member of the Staff Room, and by countless generations of OWs as a dedicated master on and off the games field – small and rotund in stature with a bark worse than his bite.
Our thanks go to Ian Ferguson (staff, 55-85), Robin Hickling (staff, 62-98) and Mike Askham (staff, 78-13) for helping to compile this obituary.
Lt Col Richard Osborne (36-43, Pl)
Died: 7th May 2019, Aged 93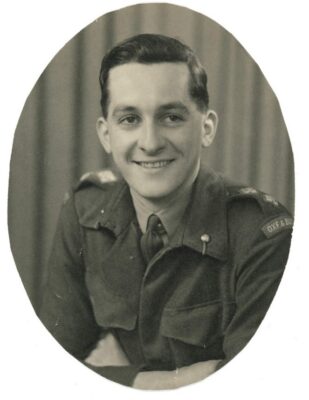 Lt Col Richard Osborne (36-43, Pl) died earlier this year, aged 93  His father Leslie had been a pupil here, 1908-10, and had seen action in WW1: Richard would later recall how, to the very end, his father had an enormous fear of water, brought on by the trauma of his ship being torpedoed. Leslie duly became an auctioneer in Buckingham and sent Richard to Wellingborough in 1936.
Richard played for the Cricket XI in 1943, before being called up. He was selected for officer training and was sent to the Indian Military academy at MAU Ranipur, 1944-45, and then served in India until partition, before being posted to the King's Shropshire Light Infantry.
A varied military career followed, including operations against the Mau Mau in Kenya. He retired as Lt Col in 1975, and then gave many years' service to various charitable causes in Shropshire, including a spell as trustee of the county regimental museum, and for over 25 years he was a great supporter of the armed forces charity SSAFA. Our condolences to his wife June and their two sons and grandchildren.
Malcolm Pollard (49-57, G)
Died: 25th April 2019, Aged 79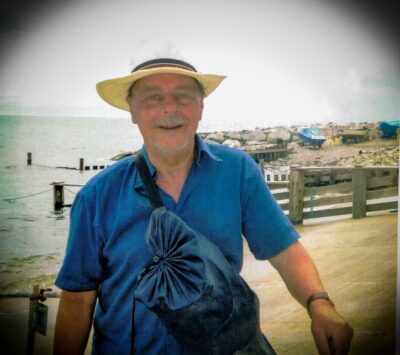 Malcolm was born in London during the Blitz, his parents were both killed when a bomb destroyed the family home, Malcolm surviving as he had been hidden under the stairs. He was duly adopted, and was sent to Wellingborough by his adoptive father Frank Pollard (21-26, F).
As well as being in the Chapel Choir from 1951 to 1957, he represented the School in Athletics, 1955-57, and was a keen sportsman in Garne's. For much of his career he worked in the family engineering business in Leicester. Widowed twice, he leaves two daughters and a son, and will be remembered by his friends for his strong sense of humour right to the end. Our thanks to Michael Pearson and Paul Blunt for this information.
Richard Ernest Knight (49-57, Pa)
Died: 18th March 2019, Aged 78
Robert (Bob) Poole (41-47, Pa)
Died: February 2019, Aged 88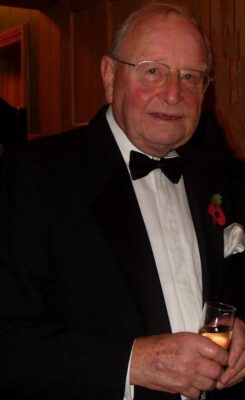 Robert (Bob) Poole died in February 2019 aged 88. He entered the Senior School as a Parkers day boy in 1941 where he excelled in elementary and additional maths, physics and chemistry as well as playing sport at the highest level.
Instead of continuing in formal education Bob was recommended by his Headmaster, Tom Nevill, as a most suitable candidate for an apprenticeship with BTH (a large engineering company in Rugby) who sent him on a mechanical engineering course to Rugby College in the evenings. It was because of this course that his entry into National Service was delayed by two years until 1950.
On completing National Service in 1952 Bob returned to the family Business, Utile Engineering. In the evenings he furthered his education with dedication to gain his Engineering Certificate and status as a Chartered Engineer. Bob was responsible for growing the family business from its humble beginnings to a global leader in its field, whilst steering it through two recessions and on to its Centenary in 2014.
Engineering accomplishments aside, Bob was fun loving and always with a smile on his face. He enjoyed socialising, playing golf with the OW's and his "Circus" of friends; as well as shooting and travelling the world on business and pleasure to some of the most far flung places.
Bob married Mary in 1960 and they leave three children William, Sarah and Tim. He was a Parish Councillor and a governor of Wellingborough Technical College. His two sons and four of his grandchildren followed him through Wellingborough School.