News & Events
Upcoming Events
OW Club Annual Dinner at the School – Postponed
OW London Drinks – Postponed
OW Club London Dinner – Friday 19th March 2021
latest news
Sarah-Jo Millan (88-92, M) – South London Scrubbers Heroics
Sarah writes:
"I became part of a group making scrubs for the NHS which is only just winding down now – thanks to a fellow parent, who was a west-end costume designer, we have made and delivered about 2800 scrubs into Kings, St. George's, The Maudsley, Bethlem Psychiatric clinic, Lewisham Covid ward, paramedics, GPs and prison nurses."
Sarah has found the experience both tough and rewarding "it was all-consuming but also showed us how amazing people are at coming together and helping each other when hard times come along".
Here's a YouTube clip of Sarah, along with other members of the group, explaining how it all came about.
I joined the NHS in December 2005 as an Information Analyst following 10 years in the IT industry where I had spent the second half of that time being impacted by some of the negative effects of the Dot.Com bubble. What started out as something I thought would be a stop-gap has turned into a 15-year career!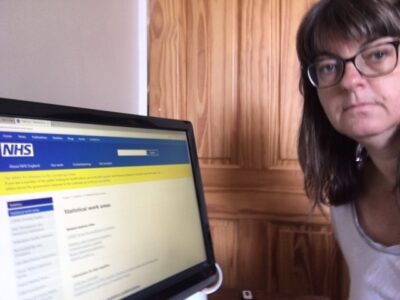 My first role in the NHS was on a treatment support programme for cancer patients where I was responsible for putting together the list of those we would invite to participate and collect and analyse the data to evaluate the programme.  Following this, I moved to the Dept of Health working on a national public health improvement programme and then to a large acute hospital, which was my first experience of the NHS frontline. Three years there flew by without a dull moment! I have now been with NHS England for the last 5 years.  We analyse many aspects of healthcare provision across the South East of England to identify where we can make improvements to patient care. It's always amusing to listen to the political debate with the benefit of inside knowledge.
I am currently involved in ensuring that the normal services the NHS provides, which have had to be reduced or interrupted to make way for COVID-19, can be reinstated as quickly – and safely – as possible.
Loving working from home again permanently and hoping never to have to get on a packed train again!
Sarah McAllister (nee Ashworth) (83-84, M)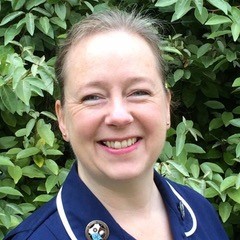 I remember telling my Granddad at the age of 4 yrs old, I wanted to grow up and be a nurse to look after people like him. He was terminally ill and at that tender age I helped in his personal care. The desire never left me. On a summer camp at 15yrs old with school CCF, there was an horrific accident that killed a couple of cadets. I got involved helping with basic care to look after the other 24 involved whilst we were waiting for ambulances to arrive. I applied to do my nurse training there and then and started a pre-nursing course at college rather than complete 6th form.
I have had a fantastically varied nursing career – worked in Northampton, Birmingham, the British Army. I met my husband, a Doctor in the Army and followed him for 20 years.  Initially my speciality was Trauma and Orthopaedics then once I had children I retrained as a Health Visitor. I now work as a School Nurse / Practice Nurse with a GP surgery in Buckinghamshire. I have been nursing for 35 years this year. The desire to help people has never gone away. As well as nursing, I have been involved with the Military Wives Choirs (a Co-founder of the Foundation) and most recently helping my own village by setting up a support network of volunteers and co-ordinating the help for all those isolated by ensuring they have food, prescriptions and errands run during this current pandemic. I have also been sewing for colleagues – laundry bags/scrubs/hats/masks.
I was nominated by a villager as an NHS hero and won a fantastic WELOVESHOES prize! Nurses will always help where they can, they cannot help themselves! I love my job. It is a true vocation.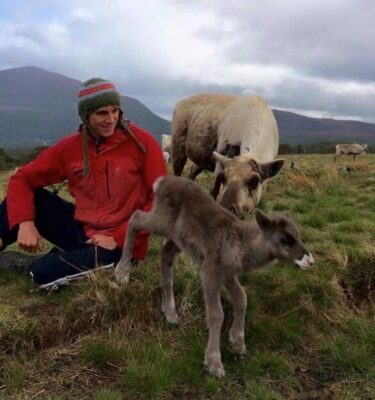 During March – the time that COVID began to impact this country – I was working at York District Hospital as a Physiotherapist. I was on an acute medical rotation. So, being hospital-based I was dealing less with achey knees and more on the branch of chest physiotherapy. This involves helping patients expectorate retained secretions, recruit lost lung volumes and preserve an effective cough, as well as general ward-based rehabilitation. Hospital operations changed drastically during these times, with almost daily changes. Throughout April, about half the hospital space was set aside, ready for potential COVID patients. Everyone there was doing a fantastic job and staff morale had never been higher. Perhaps it was the camaraderie. Perhaps it was the public appreciation for the NHS. Perhaps it was all the free cake and coffee being delivered.
Now, in May, I have made the long-planned move to Aviemore in Scotland, where I will eventually be working part time as a Physiotherapist and part time as a Reindeer Herder for the small, family-run, Cairngorm Reindeer Herd. Times are tough for them with no visitors allowed, and they're currently running a Reindeer adoption scheme on their website to help raise funds for the deer's upkeep. Calving season is now upon us and we have had plenty of adorable arrivals so far. Long may it continue.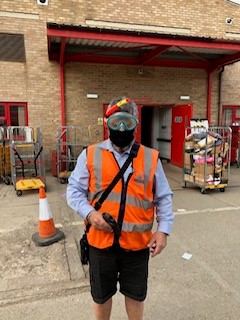 I am a Postie and life hasn't been busier. Online shopping is keeping part of our economy afloat. I've been a Postie for 20 years and have never seen the level of work rise so much for so long.
The community spirit is great and it always makes me smile when the kids and households wave and say thank you. I'm proud to serve but it has been a worry, and continues to be so, for my family but duty must prevail.
Best wishes from a very "old boy" Froggy of Steyne's House 1979-1983.
newsletters